Indulge in Luxury with the Oberoi Philae Nile Cruise
Experience the ultimate in luxury cruising with the Oberoi Philae Nile Cruise. This exceptional cruise offers 24/7 reception, ensuring that all guests are taken care of at any time of day. The cruise also features private docking areas, making it easy to embark and disembark the ship without the hassle of crowds or lines.
Dine in Style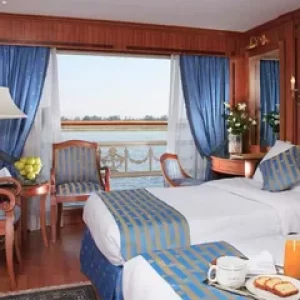 Guests can enjoy delicious cuisine with varied menus on a daily basis at the ship's restaurant. From local Egyptian dishes to international cuisine, there's something for everyone to enjoy. After dinner, the cruise offers a nightly entertainment program to keep guests entertained and engaged throughout the journey.
Relax in Style
The ship's sun deck features a swimming pool and jacuzzi, perfect for unwinding and soaking up the stunning views of the Nile River. Guests can also take advantage of a personal care attendant throughout their holiday, ensuring that they are pampered and relaxed throughout their stay.
Accessibility and Amenities
The Oberoi Philae Nile Cruise offers accessibility for all guests, with onboard elevators and access for physically-challenged guests. The ship also features a laundry and daily housekeeping service, an internet and games room, and therapy rooms with a private shower and steam room. Guests can stay fit and healthy with the ship's gymnasium on board, or relax in the library and cigar lounge.
Cultural Excursions
The cruise includes an Egyptologist for all shore excursions, allowing guests to fully immerse themselves in the rich history and culture of Egypt. Guests can explore ancient temples and tombs, visit local markets, and experience the vibrant culture of this fascinating country.
Comfortable Accommodations
The Oberoi Philae Nile Cruise features 22 elegantly appointed cabins and luxury suites, each with air conditioning and individual control. Guests can enjoy a 10″ pillow-topped mattress, blackout blinds, and a coffee machine for the ultimate comfort. The cabins also feature a personal bar, soundproof OpenTable French window, 24-hour express laundry, alarm, and docking station, high-definition 40″ LED television, DVD player, electronic safe, high-speed Wi-Fi access, wireless telephones, iPod docking station, and a private bathroom with a hair dryer, overhead multi-pressure shower, handheld shower, and weighing scales.
In conclusion, the Oberoi Philae Nile Cruise offers a luxurious and unforgettable way to experience the beauty and culture of Egypt. With exceptional amenities, services, and staff, guests are guaranteed to have a memorable and comfortable journey. From cultural excursions to delicious dining options and relaxing amenities, the cruise has everything guests need for an indulgent and unforgettable vacation.
Here are the prices you provided formatted into a table:
| | May-Sept | Oct.-April |
| --- | --- | --- |
| Double | US$ 2115 | US$ 2999 |
| Single | US$ 3155 | US$ 4475 |
And here are the prices for the 5-day and 7-day itineraries:
| | 5 Days Itinerary | 7 Days Itinerary |
| --- | --- | --- |
| May-Sept | | |
| Double | US$ 3135 | |
| Single | US$ 4715 | |
| Oct.-April | | |
| Double | US$ 4469 | |
| Single | US$ 6695 | |
Please note that the prices for the 7-day itinerary are missing for both May-Sept and Oct.-April.