VIII. Conclusion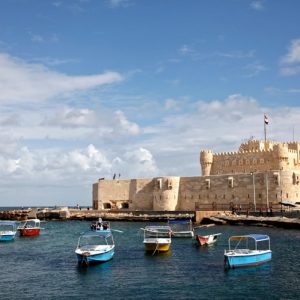 Introduction:
Alexandria,  Egypt's second-largest city, is a treasure trove of history, culture, and natural beauty. Founded by Alexander the Great in 332 BC, this coastal city has been home to many ancient civilizations and empires. Today, it is a bustling city that attracts millions of tourists every year. One of the best ways to explore Alexandria is to leave your ship in port and discover the many sights and attractions that the city has to offer. In this article, we'll take a closer look at some of the must-visit destinations, including the Qaitbay Citadel, Bibliotheca, Kom Al Shoqafa Catacombs, and more.
Qaitbay Citadel: A Historical Landmark The Qaitbay Citadel is a 15th-century fortress that was built by Sultan Al-Ashraf Qaitbay to protect Alexandria from invading armies. This historical landmark has witnessed many battles and wars throughout its history and has survived the test of time. Today, it is a popular tourist attraction that offers stunning views of the Mediterranean Sea and the city. Visitors can explore the citadel's towers, courtyards, and underground chambers, and learn about its fascinating history.
The Reconstructed Bibliotheca : A Modern Marvel The Bibliotheca is a modern marvel that was built to commemorate the ancient Library of Alexandria, which was one of the greatest libraries in the ancient world. The library was destroyed centuries ago, but the new Bibliotheca was constructed in 2002 to honor its legacy. This stunning building houses millions of books and manuscripts, as well as museums, art galleries, and research centers. Visitors can take a guided tour of the library and learn about its history and architecture.
Kom Al Shoqafa Catacombs: A Fascinating Underground World The Kom Al Shoqafa Catacombs are a series of underground tombs that were discovered in the 20th century. These catacombs date back to the 2nd century AD and were used as a burial place for the wealthy. The catacombs are decorated with beautiful sculptures, murals, and inscriptions, and are considered one of the most important archaeological sites. Visitors can explore the catacombs and marvel at their unique architecture and art.
Alexandria National Museum: A Treasure Trove of History The National Museum is a must-visit destination for anyone interested in Egyptian history and culture. The museum is housed in a beautiful early 20th-century palace and features a vast collection of artifacts from various periods of Egyptian history. Visitors can see ancient statues, mummies, jewelry, pottery, and more, and learn about the rich cultural heritage of Egypt.
Pompey's Pillar: An Ancient Monument Pompey's Pillar is an ancient monument that was erected in honor of the Roman Emperor Diocletian. The pillar is over 25 meters tall and is made of red granite. It is considered one of the most important landmarks in and attracts thousands of visitors every year. Visitors can climb the stairs to the top of the pillar and enjoy panoramic views of the city and the surrounding landscape.