I. Introduction
II. The Inspiration behind Eyaru
III. Eyaru's Unique Features
IV. Luxurious Hospitality and Unique Routes
VI. Year-Round Experience with Eyaru's Premier Feature
VII.  Cabins and Other Features
Experience authentic Egyptian culture and spirit on a luxurious Dahabiya cruise.  is a handcrafted vessel that takes inspiration from the afterlife paradise for pharaohs, where they lived in the fields. With unique routes and an opportunity to experience local life, this cruise is perfect for anyone who wants to see the Egyptian culture up close.
II. The Inspiration behind Eyaru
The name is an ancient holographic name that reflects the idea of what paradise is like for the pharaohs. Everything was inspired by and customized according to the concept, from the design of the cabins to the meals served on board. The designer made sure that each cabin is unique, with different colors and inscriptions that represent the ancient Egyptian culture and nature of southern Egypt.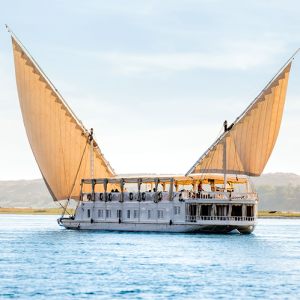 is completely handmade and plastic-free, making it environmentally friendly. It has no motors, so you won't feel any disturbing sounds or vibrations during your trip. The staff of stays on the tugboat at night, ensuring complete privacy on board.  premier feature is its pergola, which closes off part of the sundeck with glass, making it possible to enjoy the Nile's picturesque scenery during the cold months.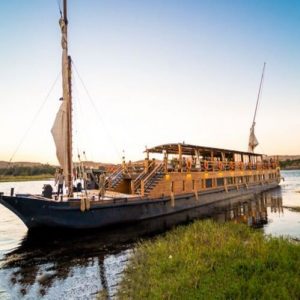 Enjoy the most luxurious hospitality while exploring new destinations in Egypt through unique routes.  sails along the Nile River between Luxor and Aswan, taking you to unforgettable sites such as El Hagz Island, Bassaw Village, and Gebel El-Silsila. These sites are unique to Dahabiyas and not available on large cruises. You will also get to experience real local life in each city you visit and go to their local markets. In Bassaw Village, you will visit a local's house and stay with him and his family, experiencing a day in Egyptian life and seeing how they truly live.
V. Authentic Egyptian Cuisine
Your meals will have the Egyptian spirit in them. During your stay, all your meals will be authentic Egyptian dishes. During your visits to the local markets, you can even buy fresh ingredients for your dinner that night or buy some fish and fire up the grills on the sundeck! You will get to live the Egyptian experience to its fullest. There is also the possibility to attend live cooking sessions for your dinner and learn local recipes that you can try when you get home.
VI. Year-Round Experience with Eyaru's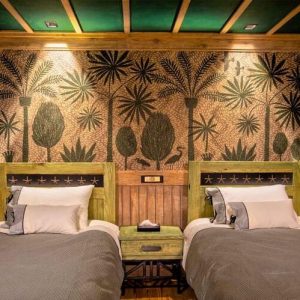 Premier Feature can be enjoyed all year round, thanks to its premier feature, the pergola. The pergola closes off part of the sundeck with glass, so there is no need to stay indoors during the cold months and miss the picturesque scenery of the Nile during your stay. That's why is the only Dahabiya that sails from Luxor to Aswan and vice versa.
VII. Eyaru's Cabins and Other Features
 is 50 meters long and 7.5 meters wide, with six twin cabins (18 M²) and two family suites (25 M²). The kitchen is 20 meters long, made out of stainless steel, and fully operational to do daily menus, including the bakery. 
There is a staff room, including a living room, and a motor room that is 10 M² in size, including two generators, two water pumps, a multistage filter, light bulbs, chlorine treatment for water, and a chiller.
 cabins are a unique feature in themselves. During construction, the designer ensured that each cabin is unique, with a different design. For example, the colors of the cabins are different, but all are linked to the meaning of the name. The inscriptions behind the bed, bedspread covers, and pillowcases are varied between papyrus plants, lotus flowers, palms, and banana trees—elements that represent the ancient Egyptian culture and the nature of southern Egypt.