Table of Content: I. Introduction
II. Steigenberger Minerva Nile Cruise: An Overview
III. The Cabins and Suites
IV. Facilities and Amenities Onboard
V. Dining Experience
VI. Entertainment and Recreation Onboard
VII. Itinerary and Excursions VIII. Conclusion
I. Introduction:Cruising down the River Nile in Egypt is a once-in-a-lifetime experience that is both luxurious and adventurous. The Nile is the lifeblood of Egypt, and its banks are home to some of the most awe-inspiring historical monuments in the world. And what better way to explore this incredible country than on a Nile Cruise?
Steigenberger Minerva Nile Cruise is a modern deluxe 5-star cruise that offers an unforgettable experience, sailing between Luxor and Aswan. The cruise ship features 77 spacious cabins, including 2 suites, and a variety of amenities and facilities that are designed to provide the highest level of comfort and entertainment.
Steigenberger Minerva Nile Cruise is a magnificent 5-star cruise ship that was built in 1997 and renovated in 2014. The ship is 72 meters long, 14 meters wide, and has a depth of 1.5 meters. It offers a perfect blend of modern luxury and traditional Egyptian hospitality, providing guests with a unique and unforgettable experience.
Steigenberger Minerva Nile Cruise offers 77 spacious cabins, including 73 double cabins, 2 single cabins, and 2 suites. The cabins are designed to provide the highest standard of comfort and luxury to guests. The double cabins are 19 sq. m. and feature panoramic windows that offer stunning views of the Nile. The single cabins are 16 sq. m. and are perfect for solo travelers. The suites are 39 sq. m. and offer a separate living area, a bedroom, and a private balcony.
All cabins are fully air-conditioned and feature satellite color TV, video-on-demand channels, a minibar, a safe box, and a private bath/shower with a hairdryer. The panoramic windows in each cabin offer a breathtaking view of the Nile.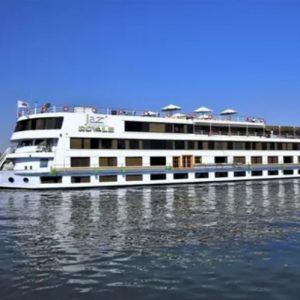 Steigenberger Minerva Nile Cruise features a range of facilities and amenities that are designed to make your stay on board as comfortable and enjoyable as possible. Some of the amenities include:
Restaurant, lounge, and bar

24-hour reception

Wireless internet access

Telephone system with international calls

Doctor on call on board

Laundry service and housekeeping

Meeting area

Gift shop

Sun deck with swimming pool

Pool bar

Beauty salon

Gymnasium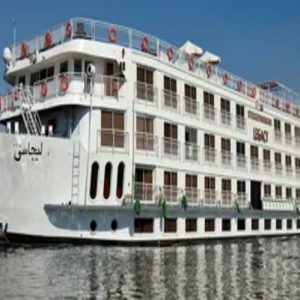 Steigenberger Minerva Nile Cruise offers a unique dining experience, with a variety of culinary delights to suit all tastes. The onboard restaurant serves breakfast, lunch, and dinner in a buffet style, featuring both local and international cuisine. The lounge and bar offer a wide selection of cocktails, wines, and spirits.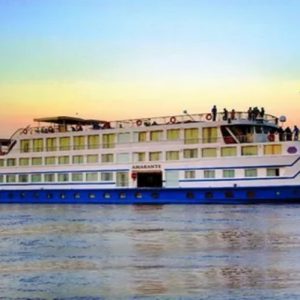 Steigenberger Minerva Nile Cruise offers a range of entertainment and recreational activities to keep you occupied throughout your stay on board. The ship's expansive sun deck features a swimming pool, a pool bar, and a lounge area, perfect for sunbathing and relaxing. The ship's gymnasium is equipped with a range of exercise equipment, perfect for those who want to keep fit while on vacation. The ship also has a beauty salon, where you can indulge in some pampering and relaxation.