I. Introduction
II. What is a Dahabiya ship?
III. The Nebyt Dahabiya: A Marvelous Choice for a Nile Cruise
IV. Cabins and Suites
V. Facilities and Amenities
VI. Destinations and Itineraries
Egypt has always been a popular tourist destination, attracting visitors from all around the world. The country is famous for its ancient history, archaeological sites, and stunning landscapes. One of the best ways to explore Egypt is by taking a Nile River cruise on a Dahabiya ship. The Dahabiya is one such ship that stands out for its luxurious facilities and impeccable service.
A Dahabiya ship is a traditional Egyptian sailboat that has been used for transportation for centuries. These boats were originally used to transport royalty and their belongings along the Nile River. Nowadays, Dahabiya ships are used as luxury cruise boats for tourists to explore Egypt's history and culture while enjoying comfortable accommodations and excellent service.
A Marvelous Choice for a Nile Cruise The  Dahabiya is a remarkable boat that offers a luxurious and stylish Nile River cruise experience. The boat is beautifully decorated and features modern amenities, making it the perfect choice for a romantic getaway or a family vacation. The boat is designed to provide a high level of comfort and privacy, and its crew is committed to ensuring that your journey is unforgettable.
The  Dahabiya has six beautifully decorated cabins and two spacious suites. Each cabin is equipped with air conditioning, a private bathroom, and a minibar. The suites offer additional amenities such as a private balcony and a Jacuzzi. The cabins and suites are elegantly designed with traditional Egyptian elements and modern touches to create a cozy and comfortable ambiance.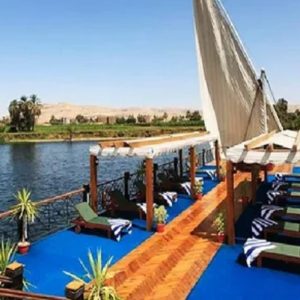 The Nebyt Dahabiya has several facilities and amenities to make your journey comfortable and enjoyable. The boat has a sundeck with comfortable loungers where you can relax and enjoy the stunning views of the Nile River. There is also a hot tub where you can soak in and unwind after a day of sightseeing. The boat has a spacious dining area where you can enjoy delicious meals prepared by the onboard chef. The boat also offers free Wi-Fi and a library for guests who want to read and relax.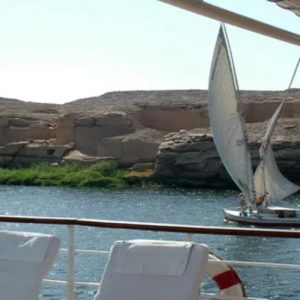 VI. Destinations and Itineraries
The Nebyt Dahabiya offers several itineraries that take you to some of the most popular destinations in Egypt. The boat sails from Luxor to Aswan and vice versa, stopping at several sites along the way. Some of the highlights of the journey include the Valley of the Kings, the Temple of Karnak, the Temple of Edfu, and the Philae Temple. The boat also offers special excursions such as hot air balloon rides and camel rides for an unforgettable experience.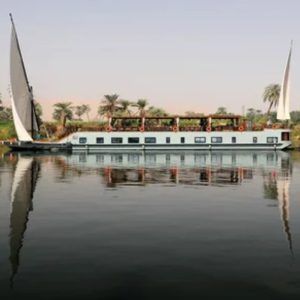 In conclusion, the Nebyt Dahabiya is a luxurious and stylish boat that offers a memorable Nile River cruise experience. The boat's elegant design, modern amenities, and impeccable service make it the perfect choice for a romantic getaway or a family vacation. With its stunning views, comfortable accommodation, and exciting itineraries, the Nebyt Dahabiya promises an unforgettable journey through the heart of Egypt.
At our company, we want to make booking your dream vacation as easy and risk-free as possible. To secure your spot on our tour, including hotel room, cruise cabin, domestic flight ticket, and other travel-related services, we require only a low down payment of 25%. You can then pay the remaining balance up to two days before your arrival date or in cash upon arrival to your tour manager at the destination. With this flexible policy, you can have peace of mind knowing that your booking is secure, and your investment is protected.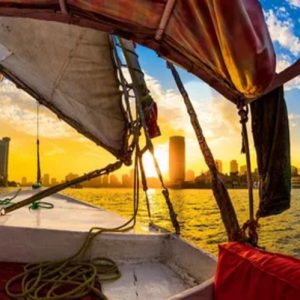 At King of Egypt Tours, we understand that unexpected events can happen, and we want to ensure that you are protected in case of emergency cancelations. In the event that the government or the airline issues a travel warning from or to your departure country and destination, we offer a very flexible cancelation policy to prioritize your well-being and safety above all else. We have adapted our cancelation policy to reflect our values and make sure that you are not at risk of losing your investment. We encourage you to familiarize yourself with our full payment policy, and cancelation and refund conditions, so you can have peace of mind knowing that we have got you covered.
The following four tables for the prices of the different itineraries:
Table 1: Prices for 4-Day Itinerary
| Month | Double Room per Person | Single Room per Person |
| --- | --- | --- |
| May-Sept | US$ 1337 | US$ 2067 |
| Oct-April | US$ 1379 | US$ 2107 |
Hotels: Nebyt Dahabiya Nile Cruise (x6)
Table 2: Prices for 5-Day Itinerary
| Month | Double Room per Person | Single Room per Person |
| --- | --- | --- |
| May-Sept | US$ 1771 | US$ 2743 |
| Oct-April | US$ 1825 | US$ 2797 |
Hotels: Nebyt Dahabiya Nile Cruise (x6)
Table 3: Prices for 8-Day Itinerary
| Month | Double Cabin per Person | Double Suite per Person | Single Cabin per Person |
| --- | --- | --- | --- |
| May-Sept | US$ 3067 | US$ 4485 | US$ 4767 |
| Oct-April | US$ 3161 | US$ 4579 | US$ 4861 |
Hotels: Nebyt Dahabiya Nile Cruise (x6)
Table 4: Hotel Accommodations
Hotel
Nebyt Dahabiya Nile Cruise (x24)