The Great Sphinx of Giza is a massive limestone statue that stands near the pyramids. It is believed to have been built during the reign of Pharaoh Khafre in the 26th century BCE. The statue stands at a height of 20 meters and is 73 meters long. The Sphinx is thought to represent the pharaoh's power and wisdom, and its face is believed to be modeled after Khafre himself. The Sphinx is also surrounded by several smaller temples and structures, including the Sphinx Temple and the Causeway.
The Giza Necropolis is a vast complex of pyramids, tombs, and temples that spans more than 10 square kilometers. It is home to some of the most impressive ancient architecture in the world, and many of the structures have been remarkably well-preserved. In addition to the pyramids and temples, there are also many smaller tombs and structures that give insight into the lives of ordinary people in Ancient Egypt.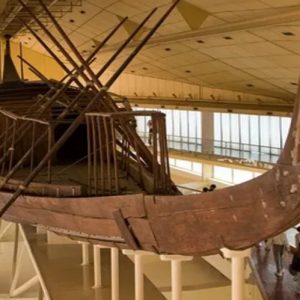 The Solar Boat Museum is a fascinating attraction located near the pyramids. It houses a reconstructed ancient boat that was found buried near the Great Pyramid of Khufu. The boat was likely intended to transport the pharaoh's body to the afterlife and was buried alongside the pyramid. The museum also features exhibits on ancient boat-building techniques and the role of boats in Egyptian culture.
The Sound and Light Show is a popular evening attraction at the Giza complex. It is a multimedia presentation that takes visitors on a journey through the history and mythology of Ancient Egypt. The show is accompanied by dramatic lighting effects and soundscapes, making for a truly immersive experience.
If you're planning a trip to Giza, here are some practical tips to keep in mind:
A. How to Get There: Giza is located just south of Cairo and can be easily reached by car, taxi, or public transportation. There are also several tour companies that offer guided tours of the area.
B. Best Time to Visit: The best time to visit Giza is during the cooler months between October and April. Temperatures can be quite hot and dry during the summer months, so it's important to bring plenty of sunscreen and water.
C. What to Wear: It's important to dress modestly when visiting Giza, particularly when entering religious sites such as mosques and temples. Women should wear long pants or skirts and cover their shoulders, while men should wear long pants and shirts.
D. Safety Tips: Giza is generally a safe place to visit, but it's important to be aware of your surroundings and take precautions to protect your belongings. Avoid carrying large amounts of cash or valuables, and be wary of pickpockets and scams.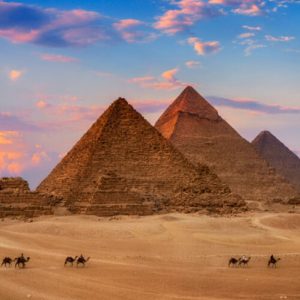 Giza is a truly awe-inspiring destination that offers a glimpse into the rich history and culture of Ancient Egypt. From the towering pyramids to the enigmatic Sphinx, the landmarks of Giza continue to fascinate and amaze visitors from around the world. Whether you're a history buff, an adventurer, or simply a curious traveler, a visit to Giza is sure to be an unforgettable experience. With its vibrant culture, friendly people, and stunning natural beauty, Giza truly is a wonder of the world.