A Serene Oasis on the Shores of the Red Sea
 I. Introduction




 II. The History 




III. Geographical Location 




 IV. Climate of Dahab 




V. Accommodation Options in Dahab 




VI. Activities in Dahab 




VII. Best Diving Sports 




VIII. Local Cuisine 


IX. Conclusion


is a small town located on the southeast coast of the Sinai Peninsula in Egypt? It is known for its tranquil atmosphere, stunning beaches, and excellent diving spots. Over the years, it has become a popular tourist destination among both locals and international travelers seeking a laid-back vacation away from the hustle and bustle of big cities. This article will provide an in-depth look at history, geographical location, climate, accommodation options, activities, diving spots, and local cuisine.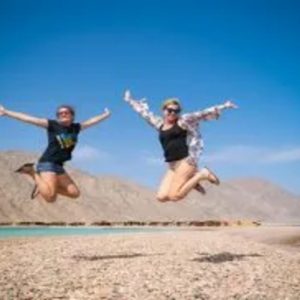 The name "Dahab" means "gold" in Arabic, and it is believed that the town was named after the gold that was once mined in the area. Historically, Dahab was a small fishing village, but in the 1970s, it began to attract attention from hippies and backpackers seeking a quiet and serene destination. The town continued to develop, and today it is a popular destination for tourists seeking adventure, relaxation, and an opportunity to experience the Bedouin culture.
 is located on the shores of the Red Sea, approximately 100 kilometers southeast of Sharm El-Sheikh. The town is situated at the northern end of the Gulf of Aqaba, and it is surrounded by stunning mountains that provide a picturesque backdrop to the town's beaches.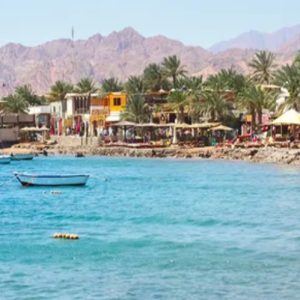 It has a subtropical desert climate, which means that it is warm throughout the year. The summer months, from June to September, are hot, with temperatures ranging from 32 °C to 38 °C. The winter months, from December to February, are mild, with temperatures ranging from 18 °C to 24 °C. The best time to visit is during the spring and autumn months, from March to May and from October to November, when the temperatures are pleasant, and the weather is dry.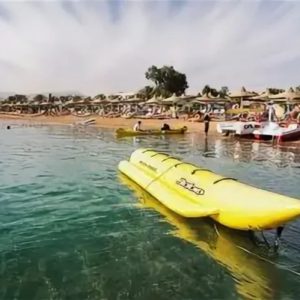 Dahab offers a wide range of accommodation options, from budget-friendly hostels to luxurious resorts. There are many options available for travelers, depending on their preferences and budget. Some of the most popular accommodation options include:

Bedouin-style camps – These are traditional Bedouin-style tents that are set up on the beach. They offer a unique experience for travelers who want to immerse themselves in the local culture.

Guesthouses –  has many guesthouses that offer affordable accommodation. They are usually located in quiet areas, away from the hustle and bustle of the town center.

Hotels and resorts – There are many hotels and resorts that offer luxurious accommodation options. They are usually located on the beachfront and offer stunning views of the Red Sea.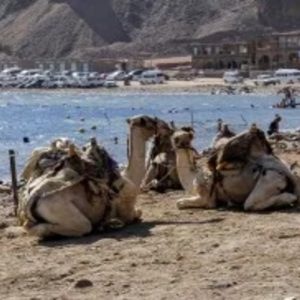 is a paradise for travelers seeking adventure and outdoor activities. There are many activities available for tourists, including:
Diving –  is famous for its diving spots, which offer some of the best underwater experiences in the world. The town is home to some of the most beautiful and diverse coral reefs, which are home to a wide variety of marine life.
Snorkeling – If diving is not your thing, then snorkeling is a great alternative.  beaches offer excellent snorkeling opportunities, with crystal-clear waters and an abundance of colorful fish and corals to explore.