A. The High Dam




B. Philae Temple




C. Abu Simbel




D. Unfinished Obelisk




E. Nubian Museum




 IV. Best Time to Visit 




V. Getting to Aswan




III. Top Attractions




VI. Accommodation




VII. Food and Drinks 




VIII. Safety 




IX. Conclusion
A picturesque city is located in Upper Egypt, situated on the banks of the Nile River. It is the southernmost city in Egypt and a popular destination for tourists. The city has a rich history and is home to many ancient monuments and attractions. In this article, we will take a closer look at and explore its history, top attractions, the best time to visit, getting there, accommodations, food and drinks, and safety tips.
Aswan played a crucial role in the construction of many of Egypt's ancient wonders, including the Pyramids of Giza and the Luxor Temple. The quarries around supplied the granite used in these structures, as well as other ancient monuments throughout Egypt.
 a treasure trove of ancient and modern attractions. Here are some of the top places to visit.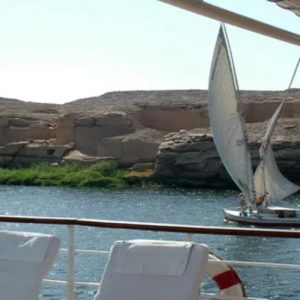 The High Dam is a modern engineering marvel that has been hailed as one of the most significant achievements of the 20th century. The dam was built to control the Nile River's flow and prevent flooding in the area. It is an impressive sight to behold and offers spectacular views of Lake Nasser and the surrounding desert.
Philae Temple is an ancient temple complex dedicated to the goddess Isis. The temple was built during the Ptolemaic period and is one of the best-preserved ancient temples in Egypt. It was relocated to its current location on the island of Aglaia after the construction of the High Dam threatened to submerge it.
Abu Simbel is a magnificent temple complex located about 280 km south. The complex consists of two temples, the Great Temple of Ramses II and the smaller Temple of Hathor. The temples were carved into the mountainside during the reign of Ramses II and are considered one of the most impressive ancient monuments in Egypt.
The Unfinished Obelisk is a massive granite monument located in a quarry on the eastern bank of the Nile River. The obelisk was never completed, but its size and the workmanship on display give an idea of the grandeur of ancient Egyptian architecture.
The Nubian Museum is dedicated to the history and culture of the Nubian people who lived in southern Egypt and northern Sudan. The museum houses a vast collection of artifacts and exhibits, including ancient Nubian architecture, pottery, jewelry, and textiles.