Who Broke its Nose? 4,500 Years Later, a Fresh Look
Sphinx, Looming silently at the Giza Plateau just west of Cairo lies one of the most enigmatic and iconic monuments of the ancient world—the Great Sphinx. With the body of a recumbent lion and the head of a king, this towering limestone statue has withstood almost 4,500 years of sand and weather to mystify all who behold it. While its form is familiar globally, much about the Sphinx's origin and purpose remains open to debate among Egyptologists. In this comprehensive examination, we'll explore the leading theories on who built the Sphinx as well as shed new light on the destruction of its nose through historical context and modern analysis.
Theories on the Sphinx's Builder
Nearly all Egyptologists agree the Sphinx was carved sometime during the later Old Kingdom era in the 25th or 26th century BC, but opinions diverge on its exact creator. Here are the two prevailing theories:
Khafre (Cafra, Khephren) Theory: The dominant scholarly view is that Pharaoh Khafre of the Fourth Dynasty commissioned the Sphinx as a monumental guardian for his adjacent valley temple and pyramid complex. This theory is supported by depictions of Khafre found among the temple's ruins, as well as similar grandeur and artistry matching other works attributed to his reign.
Orion Correlation Theory: Geologist Robert Bauval put forth geological evidence and astronomical alignments linking the constellation Orion to the pyramids that predate Khafre, suggesting the Sphinx was carved even earlier under Pharaoh Djedefre or Khufu for Orion-related religious ceremonies. Bauval's celestial hypothesis is controversial but provides an alternative to Khafre's authorship.
Beyond these key figures, some maintain that older pharaohs like Horemheb, Thutmose IV, or even an unknown monarch could have been patrons to this work of immense scale and precision. With no definitive labels or cartouches found on the Sphinx, its enigma endures. However, most researchers favor Khafre based on archaeological signs and the sophisticated cohesion of design elements within his funerary complex. Further excavations could still reveal new insights into who commissioned the colossus thousands of years ago.
Purpose and Symbolism of the Sphinx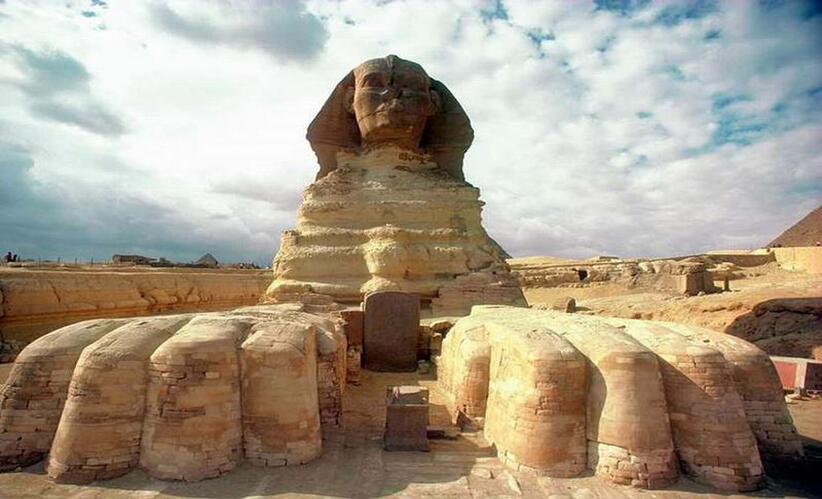 Regardless of its exact builder, the Sphinx clearly held deep spiritual importance for the ancient Egyptians. Some beliefs about its purpose and iconography:
As a hybrid lion-human, it represents the pharaoh as the supreme ruler, combining physical might and bravery with wisdom and judgment. Royal statues of this type depicted power and divinity.
Its eastern orientation facing the rising sun connected the Sphinx to solar worship and rebirth. Egyptians saw the sun as a symbol of continuity and an escort for souls into the afterlife.
The Sphinx may have stood guard vigilantly over the sacred royal necropolis as a divine protector against evil forces that threatened order and stability.
Alternative functions include an idol for oracles or sacrificial rituals near the Sphinx temple or a focal point for astronomical observations that aligned with stellar constellations like Orion and Sirius.
While Crafted as a physical guardian, the Sphinx held layers of cosmological symbolism that reflected pharaonic ideology and beliefs in eternal reincarnation through the sun's passage across the sky each day. Its enigmatic nature leaves room for interpreting deeper spiritual mysteries it once represented.
A Broken Nose and Modern Theories
With a face measuring 17 feet long, the Sphinx's nose is modestly proportionate in size but distinctly missing pieces that give it an incomplete impression today. Many speculate about what damaged this distinctive feature, with the popular narrative involving Mamluk target practice in the Middle Ages:
Mamluk Archery Theory: According to the narrative from Arab historians in the 1300s, the Mamluk Sultan Muhammad Abu al-Nasr ordered the Sphinx's face shot at for archery target practice, inadvertently breaking off fragments of its nose. This popular tale became the established assumption for centuries.
Natural Erosion Theory: Recent geological analysis by experts like Dr. Zahi Hawass suggests the damage matches slow patterns of weathering rather than a sudden impact. Wind and sand abrasion over hundreds of years could account for its current state.
Ancient Breakage Theory: Some propose the nose was intentionally damaged in Pharaonic times, related to the royal "damnation memorial" of disgraced rulers associated with the Sphinx. Natural degradation from antiquity onward obscured evidence of purposeful defacement.
With no conclusive proof, differing opinions persist. But modern investigation raises insights warranting a fresh perspective on who or what truly broke the Sphinx's famous nose.
Exploring the Evidence
To analyze this mystery more deeply, it's worth exploring what various fields of research reveal about the Sphinx's nose damage:
Geological Evidence
Microscopic studies show pitting and striations consistent with natural abrasion, not a clean break from bullets or blows.
Erosion profiles match long-term desert conditions rather than sudden breaking a few centuries ago. Old Kingdom art depicts an intact nose.
Historical Context
Arab historians first described marks in the 1300s, but no record exists of the supposed archery event. Such vandalism would've been documented.
Mamluks had no recorded history of engaging in pointless destruction for sport at major antiquity sites earlier dynasties revered.
Sphinx Excavations
1886–1890 excavations by archaeologist Gaston Maspero found no bullets, arrowheads, or remains of any projectiles around the Sphinx.
Later probes by Hawass and others followed natural weathering striations deep into the exposed limestone, not cleanly-bottomed breaks.
Alternative Narratives
Ancient graffiti seen as evidence vandals purposely damaged the nose contradicts other Pharaonic evidence showing high respect for the Sphinx.
Some propose that subsurface tunnels contain ancient records that could reveal religious motives for early partial destruction of the face.
Weighing all available evidence, the Mamluk archery story does not seem wholly reconcilable and obscures what really happened to the Sphinx's nose over the centuries. Its damage likely resulted gradually from natural erosion, not a single human act. But deeper mysteries may still await discovery beneath the sands.
Preserving the Sphinx for Future Study
Having survived almost 4,500 years of sandblasting desert winds, the Sphinx faces an existential threat in the form of 21st-century pollution rather than arrows or axes. To safeguard this archaeological wonder for further research, conservation efforts are paramount.
Laser scanning surveys track deterioration in the soft limestone from acid rain and auto/industrial emissions settling on its immense form.
Shelters protect vulnerable areas from rainfall-percolating minerals and salts that expand inside cracks and crevices.
Strict visitor guidelines help prevent contaminants and graffiti that worsen decay through skin contact and foreign substances.
Groundwater at the Giza site is carefully monitored since rising water tables can undermine structural integrity through crystallization and spelling.
New cleaning techniques using limestone-friendly materials gently remove accumulated grime while preserving natural erosion profiles, which are invaluable to study.
With its colossal visage enduring almost half a millennium, the Sphinx holds untold secrets still locked within. Proper preservation ensures Egyptologists and scientists can continue exploring this enigmatic monument's mysteries not just for centuries more but for as long as its mysteries stimulate human curiosity about ancient high cultures and our deepest origins.
Concluding Thoughts
As the focal point of the Giza Plateau, the Sphinx has endured the sands of time to awe and intrigue all who gaze upon its weathered form. While the identity of its creator remains open to interpretation and its nose damage likely resulted from natural processes, not a single destructive act, studying this iconic statue yields insights into the ancient Egyptians' spiritual philosophies, technical skills, and philosophical worldview.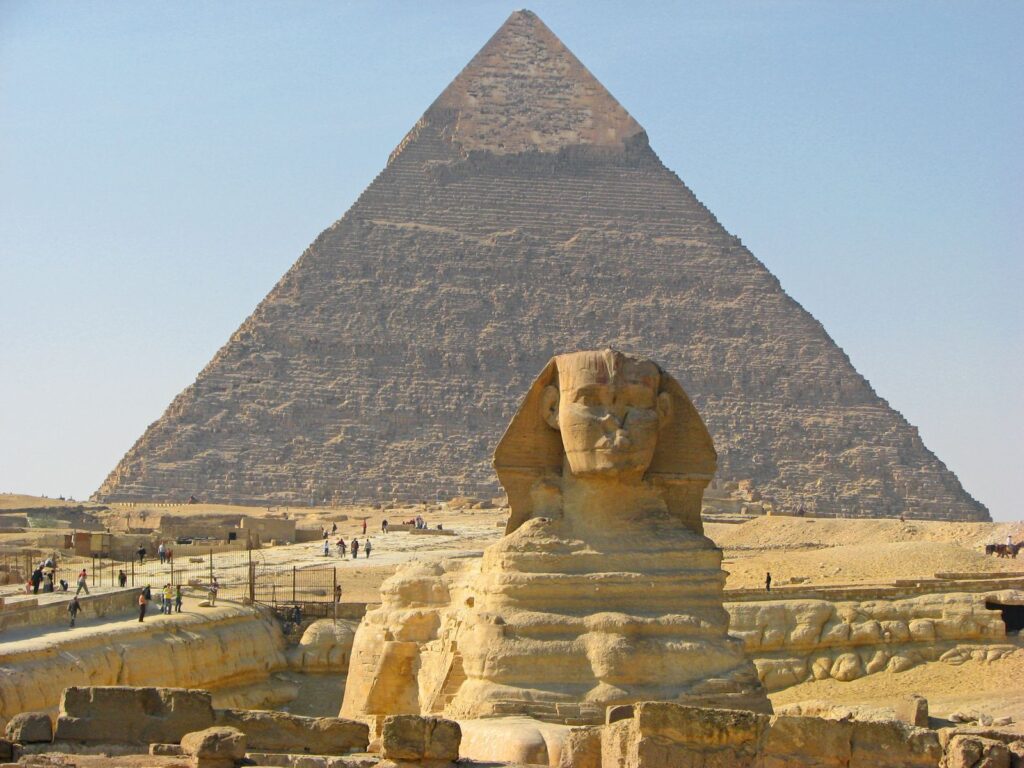 Even after thousands of years, the Sphinx maintains mysteries that fire imaginations around its purpose and history. With further noninvasive exploration techniques, more may be revealed about its construction techniques, alignments, and possible interred records within. No matter its hidden depths, this guardian colossus stands as a testament to both human artistic achievement and our ongoing quest to comprehend primordial civilizations whose fingerprints still shape our world today. Its allure ensures the Sphinx will continue fueling discovery and speculation for ages to come.