A Remarkable Journey in Ancient Egypt's History with Queen Hatshepsut
Introduction: Queen Hatshepsut
Hatshepsut stands as a formidable and enigmatic presence in the annals of Ancient Egypt, boldly challenging societal norms steeped in patriarchy. Her trajectory, evolving from the early days as a queen to an unparalleled reign as Pharaoh, commands the attention of historians, archaeologists, and enthusiasts. This article embarks on a journey through the life, accomplishments, and lasting influence of illuminating the remarkable odyssey of this iconic ruler.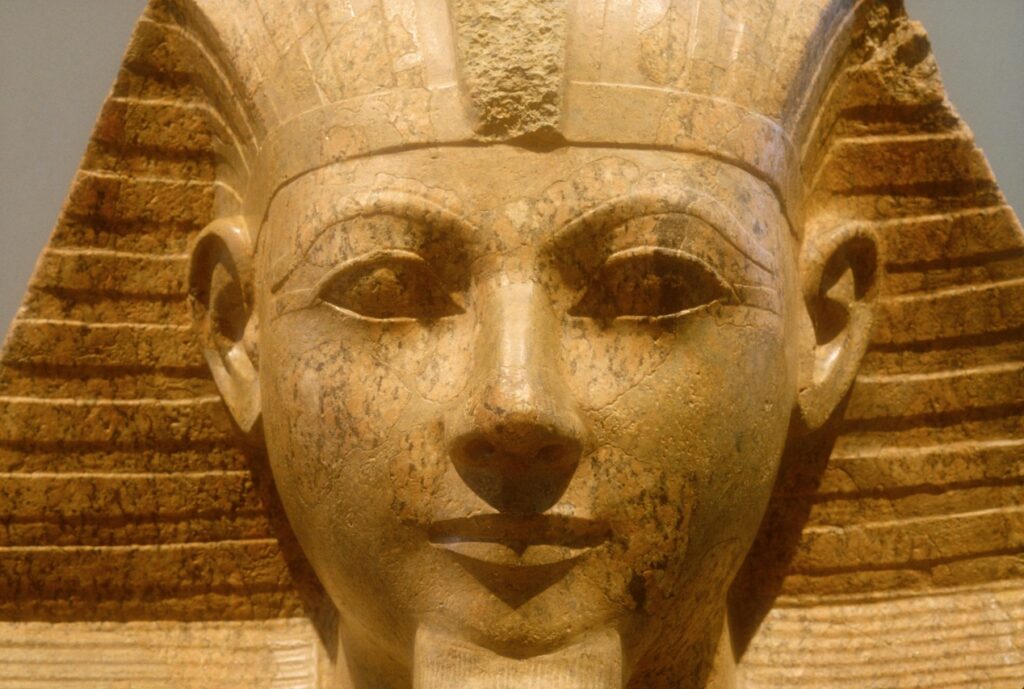 Born into a society where women's authority was often limited, Hatshepsut refused to be confined by convention. Her ascent to the throne as Pharaoh, a title traditionally reserved for men, defied expectations and reshaped the narrative of leadership in ancient Egypt. This audacious move marked a turning point, not only for her own reign but for future generations of leaders.
Hatshepsut's legacy endures through the indelible marks she left on Ancient Egypt. Her architectural endeavors, notably the awe-inspiring Mortuary Temple at Deir el-Bahri, remain a testament to her visionary approach to building. This grand structure, nestled against the cliffs of western Thebes, is a testament to her ambition and enduring influence on Egyptian art and engineering.
Moreover, Hatshepsut's reign witnessed an era of economic prosperity, driven by ambitious trade expeditions. Voyages to the fabled Land of Punt enriched Egypt with exotic treasures, from precious incense to unique flora and fauna. These ventures not only bolstered the kingdom's wealth but also solidified its reputation as a skilled diplomat and astute stateswoman.
Despite attempts to erase her from historical records, her legacy continues to inspire. Her story serves as a beacon of empowerment, reminding us that true greatness transcends gender and time. In a world where prevailing norms may seek to limit potential, Hatshepsut's journey stands as a testament to the boundless possibilities that emerge when one refuses to be confined by convention.
I. Early Life and Ascension to the Throne
A. Birth and Lineage
Hatshepsut was born in the early 15th century BCE, during the 18th Dynasty of Egypt's New Kingdom. She was the daughter of Pharaoh Thutmose I and Queen Ahmose. Her royal lineage provided her with a privileged upbringing, surrounded by the grandeur of the Egyptian court.
B. Marriage to Thutmose II
In her early years, married her half-brother, Thutmose II. This union would significantly impact her future role in Egyptian politics and her ascent to the throne.
C. Queen Regent
Upon Thutmose II's premature death, Hatshepsut assumed the role of queen regent for her stepson Thutmose III, who was an infant at the time. This marked a pivotal moment in Hatshepsut's life, setting the stage for her eventual rise to power.
II. The Unprecedented Reign
A. Coronation as Pharaoh
In a bold and unprecedented move, Hatshepsut declared herself Pharaoh, a title exclusively reserved for males. She adopted the throne name "Maatkare" and donned the traditional regalia of Egyptian rulers, including the royal kilt, ceremonial beard, and the nemes headdress.
B. Co-Regency with Thutmose III
Rather than sidelining Thutmose III, Hatshepsut chose to rule alongside him, establishing a unique co-regency. This decision displayed her political acumen, ensuring stability and continuity in the Egyptian kingdom.
C. Architectural Marvels
Hatshepsut's reign is synonymous with architectural innovation and grandeur. She commissioned the construction of the breathtaking Mortuary Temple of Hatshepsut at Deir el-Bahri, an architectural masterpiece nestled against the cliffs of western Thebes.
III. Economic Prosperity and Foreign Relations
A. Trade Expeditions
Hatshepsut's rule witnessed an unprecedented era of economic prosperity, largely attributed to her ambitious trade expeditions. Her envoy, led by the renowned Senenmut, embarked on journeys to the fabled Land of Punt, bringing back exotic treasures, including incense, myrrh, and rare flora and fauna.
B. Diplomacy and Alliances
Hatshepsut skillfully navigated foreign relations, strengthening ties with neighboring kingdoms. Her diplomatic prowess ensured Egypt's security and prominence on the world stage.
IV. Legacy and Controversies
A. Erasure from History
Following Hatshepsut's death, her successor, Thutmose III, sought to erase her legacy from history. Many inscriptions and monuments bearing her name were defaced or destroyed, in an attempt to downplay her significance.
B. Rediscovery and Historical Resurgence
Centuries later, in the early 19th century, archaeologists and Egyptologists began uncovering evidence of Hatshepsut's reign, gradually piecing together the story of this remarkable pharaoh. Today, her legacy stands as a testament to her indomitable spirit and the enduring impact she left on Egypt.
Conclusion
Hatshepsut's transition from queen to pharaoh stands as a monumental episode in the annals of Ancient Egypt. Her bold move to challenge the established norms and assume the mantle of Pharaoh represented a radical departure from the prevailing male-dominated order. This audacious decision redefined the boundaries of female leadership, leaving an indelible mark on history.
Hatshepsut's reign was characterized by a series of remarkable achievements that showcased her exceptional leadership abilities. Her architectural endeavors, most notably the awe-inspiring Mortuary Temple of Hatshepsut at Deir el-Bahri, demonstrated a visionary approach to building that continues to astound historians and visitors alike. This testament to her vision and ambition remains a marvel of ancient engineering and design.
Furthermore, Hatshepsut's economic policies led to a period of unprecedented prosperity. Her ambitious trade expeditions, notably to the fabled Land of Punt, not only enriched the Egyptian treasury but also brought back exotic treasures, including precious incense and rare flora and fauna. This economic affluence underpins her legacy as an astute and effective ruler.
Diplomacy was another cornerstone of Hatshepsut's reign. Her adept handling of foreign relations solidified alliances and ensured the security and prominence of Egypt on the global stage. Her diplomatic finesse fostered an era of stability and cooperation, securing her place as a shrewd stateswoman.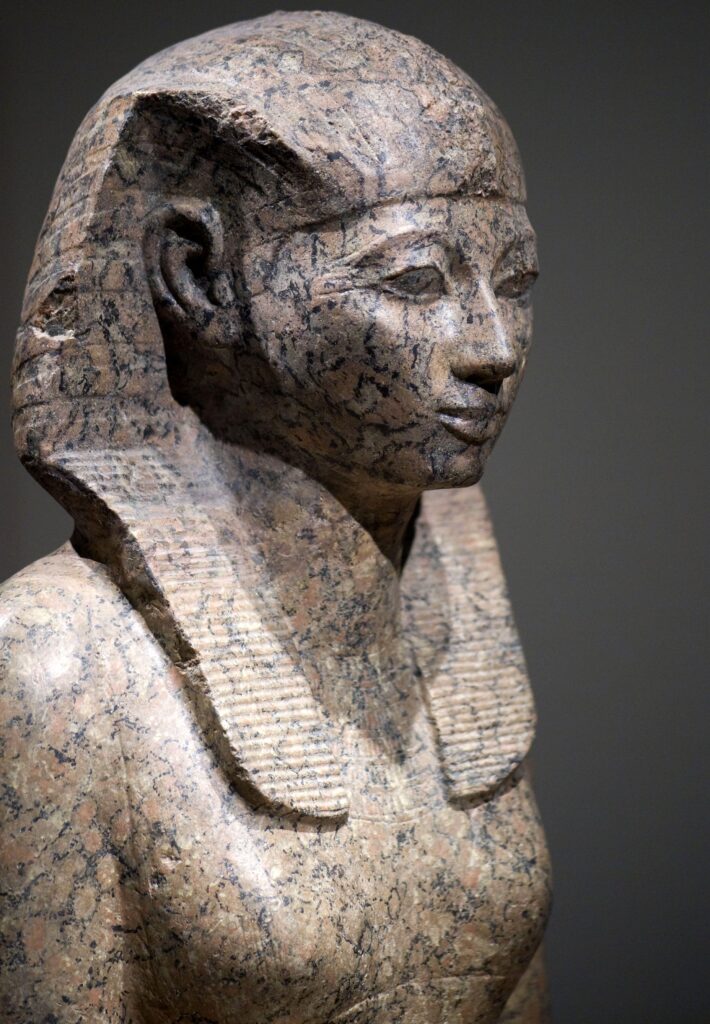 Despite concerted efforts to erase her from the annals of history, Hatshepsut's legacy endures. Her story continues to serve as a powerful symbol of empowerment, resonating with generations that recognize true greatness knows no gender or temporal bounds. In the face of adversity, Hatshepsut's legacy stands tall as a beacon of inspiration, a testament to the enduring impact one individual can have on the course of history. Her reign remains a testament to the potential and power of determined leadership, irrespective of societal expectations or constraints.