What are Dahabiya NILE Cruises?
Dahabiya Nile Cruises are a unique way to experience the Nile River in Egypt. Dahabiya Nile Cruises is a traditional Egyptian sailing boat that has been used for transportation along the Nile for centuries. These boats have been renovated to provide comfortable accommodations for tourists to cruise along the river while gaining insights into ancient Egyptian history and local culture.
There are a few key things that define Dahabiya Nile Cruises:
Sailing on a traditional wooden sailing boat called Dahabiya Nile Cruises which has been updated for modern comforts
On slow multi-day cruises along the Nile between destinations like Luxor and Aswan, allow time to fully immerse yourself in the scenery and stops.
A small guest capacity of typically 6–12 people, ensuring an intimate experience.
Activities focused on visiting historical sites, interacting with local communities, and cooking demonstrations.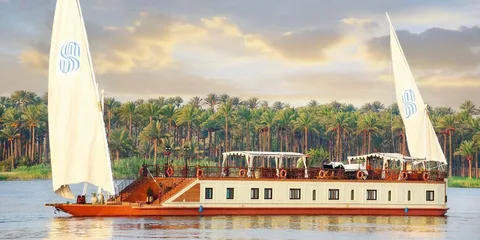 Dahabiya Nile Cruises offers a unique level of authenticity compared to larger cruise ships. Traveling by boat like the ancient Egyptians and stopping in smaller villages allows for a cultural experience off the main tourist track.
History of the Dahabiya
Dahabiya Nile Cruises design has roots dating back thousands of years to Ancient Egypt. River transportation was crucial for trade, communication, and the movement of goods. In modern times, Dahabiya Nile Cruises evolved into its current form in the 19th century.
Wealthy Egyptians and foreigners would travel between cities like Luxor and Aswan on multi-day journeys. Guests would relax on deck and sleep in private cabins while the captain and crew handled sailing. Local craftsmen meticulously constructed the boats entirely from wood without nails.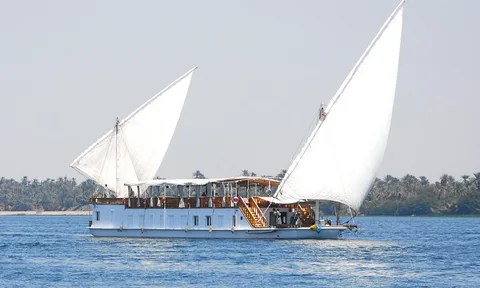 In the 20th century, the dahabiya started fading with the rise of faster motorboats. Just a few remained in operation carrying passengers and goods. Starting in the 1990s, there was a revival in renovating historic dahabiyas for tourism. Operators upgraded amenities while keeping traditions like lateen cotton sails.
Today Dahabiya Nile Cruises cruising is a unique living history experience. Travelers can feel like Egyptian royalty centuries ago drifting past villages and fields on graceful wooden boats. The design is still crafted without a single nail by expert boat builders in the same style as centuries past.
Itinerary for a Typical Dahabiya Cruise
Most dahabiya cruises follow a similar multi-day itinerary between Luxor and Aswan, two of Ancient Egypt's most impressive cities. However, operators customize schedules based on interests and seasonal conditions. Here is an overview of a typical 5-6 day route:
Day 1 – Boarding in Luxor:
Guests board Dahabiya Nile Cruises in Luxor in the late afternoon. There is an introductory meeting and dinner on board. Luxor serves as the gateway to Egypt's greatest treasures like the Valley of the Kings and Karnak Temple.
Day 2 – West Bank of Luxor:
The first full day involves touring Luxor's West Bank including the Valley of the Kings and Queens, Medinat Habu, and Deir el-Bahari. Returning to the dahabiya for refreshments, dinner is often served ashore for amazing Dahabiya Nile Cruises views.
Day 3 – Sailing North to Esna:
While sailing north, guests can relax on deck, try their hand at helping the crew, or participate in activities like cooking demonstrations. Arriving in Esna in the late afternoon allows for touring the famous Temple of Khnum.
Day 4 – Sailing to Edfu:
Another day of sailing sights passes villages, fields, and occasional stops. Edfu's impressive Ptolemaic Temple is toured before returning to the dahabiya.
Day 5 – Kom Ombo and Aswan:
Arrival in Aswan involves touring the Temple of Kom Ombo shared by Sobek and Haroeris and agnostic Sanctuary of Philae.
Day 6 – Optional Abu Simbel Excursion:
For an additional fee, a pre-dawn excursion visits the Temples of Ramses II and Nefertari at Abu Simbel, one of Egypt's most magnificent sites. After breakfast, guests disembark in Aswan.
This captures the essence of discovering ancient wonders and experiencing the rhythm of river life on a peaceful Dahabiya Nile Cruises cruise. It provides a balance of touring iconic sites and relaxation on the Nile.
Benefits of Cruising by Dahabiya
While larger cruise ships can certainly be comfortable, dahabiya cruising offers unique rewards for those seeking a more immersive Egyptian experience:
Intimacy
With a maximum guest capacity of 12, dahabiyas feel intimate rather like a large private houseboat. Passengers get to know fellow travelers and crew.
Authenticity
By sailing past villages, fields, and local ferry traffic, passengers truly absorb the essence of river travel as Egyptians have for millennia.
Flexibility
Dahabiya Nile Cruises navigate shallow waters and stop in smaller locales off the main tourist routes for fresher cultural insights away from crowds.
Pace
The slow pace of meandering along the Nile allows relaxation and soaking in each destination rather than just checking sites off a list.
Hospitality
Egyptian hosts take pride in their revered pharaonic heritage and welcome guests warmly on these cruises fostering cross-cultural understanding.
Value
For the level of personalized service and insights, Dahabiya Nile Cruises cruising is very reasonably priced compared to alternatives without sacrificing comfort.
Dahabiya Nile Cruises offers travelers an ideal combination of history, culture, and relaxation while gaining a deeper connection to Egypt along its most storied waterway. The experience will live long in memory.
How to Book a Dahabiya Cruise
Booking Dahabiya Nile Cruises requires advance planning but offers flexibility. Here are the basic steps:
Choose an Operator
Look for experienced operators providing the highest safety and service standards. Top companies frequently recommended include Sanctuary Retreats, Abercrombie & Kent, CroisiEurope, and others.
Select Itinerary Dates
Dahabiya Nile Cruises generally run between Luxor and Aswan but can be customized. The high season is October-April while summer has warm weather. The monsoon season runs from June to August.
Check Availability
Boats have limited capacity so reserve well in advance, at least 6 months for high season. Operators accept tentative bookings if dates are flexible.
Review Package Options
Cruises include accommodation, meals, guided touring, and transportation. Add-ons like excursions to Abu Simbel or spa treatments may incur extra fees.
Provide Traveler Information
Supply passport details, and special diet/accessibility needs upon booking to ensure a smooth customized experience.
Pay Deposit
A non-refundable deposit holds the booking, with balances due several months before travel. Major credit cards or bank wire transfers are accepted.
Receive Documentation
Itinerary, relevant visa documents and pre-trip info will arrive by email to prepare excitedly for the magical Egyptian cruise adventure ahead.
With a little advance planning, travelers can treat themselves to an idyllic journey back in time on the Nile by dahabiya. Operators handle every detail so guests simply relax and immerse in the romantic atmosphere.
Frequently Asked Questions about Dahabiya Cruises
Are dahabiyas safe?
Absolutely. Major operators strictly adhere to safety regulations. Boats undergo thorough annual inspections and have onboard emergency equipment. The crew is well-trained and first-aid certified.
What is the pacing like each day?
Mornings involve touring ancient sites. Afternoons are dedicated to relaxing onboard or light activities. This contrasts with more rushed mass tourism schedules.
What amenities are provided?
En-suite cabins feature air conditioning, private bathrooms, and mini-fridges. Lounging areas, bars, and meals are served alfresco when weather permits. Most boats have on-deck Jacuzzis too.
Is Wi-Fi available?
Yes, dahabiyas have Wi-Fi, but signal strength varies by location. It's smart to not rely on constant connectivity and instead focus on immersing in place and company.
Here are some additional details about dahabiya cruises:
Accommodations:
Cabins are typically very comfortable en-suite facilities with air conditioning. Some even have private balconies. Beds can be twins or queens.
Larger boats may have 3-4 cabin categories including suites. All have granite bathrooms.
Common areas include lounge seating, a bar serving drinks, and al fresco dining areas.
Cuisine:
Meals focus on Egyptian and international cuisine, prepared freshly onboard or sometimes at local restaurants.
Breakfasts include eggs, pastries, fruit, and yogurt. Lunches are light buffets.
Dinners feature main dishes like grilled river fish, chicken kebabs, and lamb shank taglines along with vegetable sides.
Higher end cruises may include cooking demonstrations utilizing local ingredients.
Alcohol is served, but choices may be limited depending on the operator. Tea and coffee are always available.
Activities:
Guided morning tours visit sites like Luxor Temple, Valley of the Kings, and Aswan High Dam.
Afternoons involve relaxing onboard, photography lessons, art workshops, and lecture discussions.
Optional add-ons include overnight camping in the desert or Galabeya dressing for dining ashore.
On sailing days, passengers can assist the crew in maneuvering sails or try steering for short periods.
Evening entertainment sometimes features local music performers or stargazing talks.
Crew & Service:
Captains are highly experienced Nile navigators licensed by Egyptian authorities.
Most staff members speak English and are well-trained to attend to guests' needs.
A doctor or nurse is present on the largest boats for emergencies.
Gratuities are customary at the trip conclusion for good service.
An onboard host and tour guides handle daily arrangements.
CONCLUSION:
Taking a dahabiya cruise along the Nile River is a once-in-a-lifetime experience that allows travelers to step back in time and explore Egypt in an authentic and immersive way. Unlike crowded shore excursions or large luxury cruises, dahabiyas provide an intimate setting where guests can form strong bonds with fellow passengers and crew while learning about local history and culture at a leisurely pace.
By journeying through scenic landscapes and stopping in lesser-visited towns, travelers gain a richer understanding of daily life in Egypt which has changed little for centuries. Whether engaging with demonstrations of cooking or crafts, stargazing under clear desert skies, or simply relaxing aboard the vessel, dahabiya cruising fosters lasting memories through meaningful connections and moments of wonder.
While vacations are meant to provide respite from busy modern lives, dahabiya travel uniquely enhances cultural appreciation and understanding. For those seeking a personalized journey back in time to discover hidden treasures of Ancient Egypt in relaxed solitude, a cruise on a traditional sailing boat provides the perfect adventure. Guests feel privileged to experience the dramatic landscape and heritage in an intimate setting removed from tourist crowds.
A dahabiya cruise creates cherished recollections through fascinating encounters that enlighten the soul and help us rediscover our shared humanity across continents and eras. It is a special way to witness Egypt's passage into legend traveling the same waters as the Pharaohs.