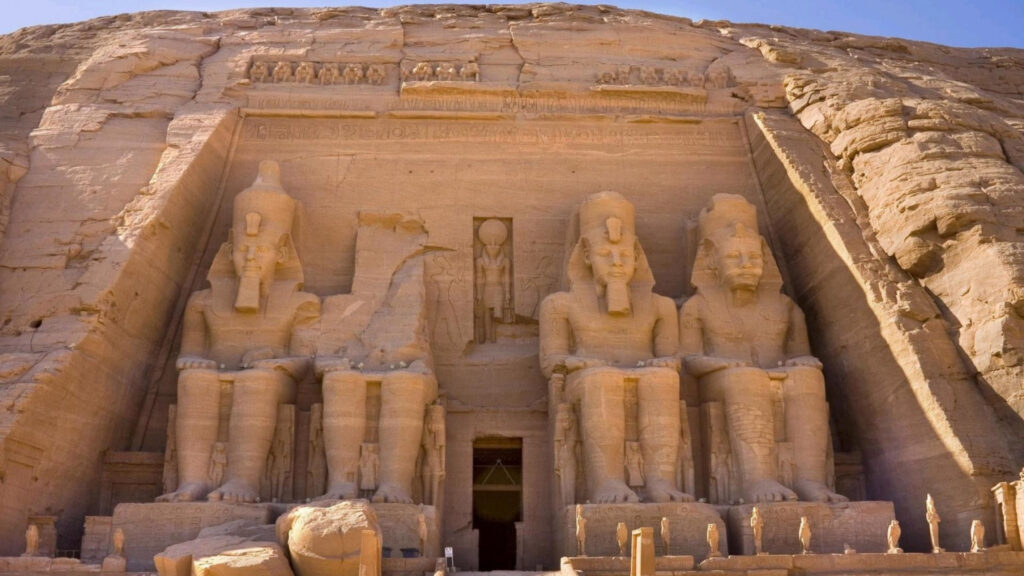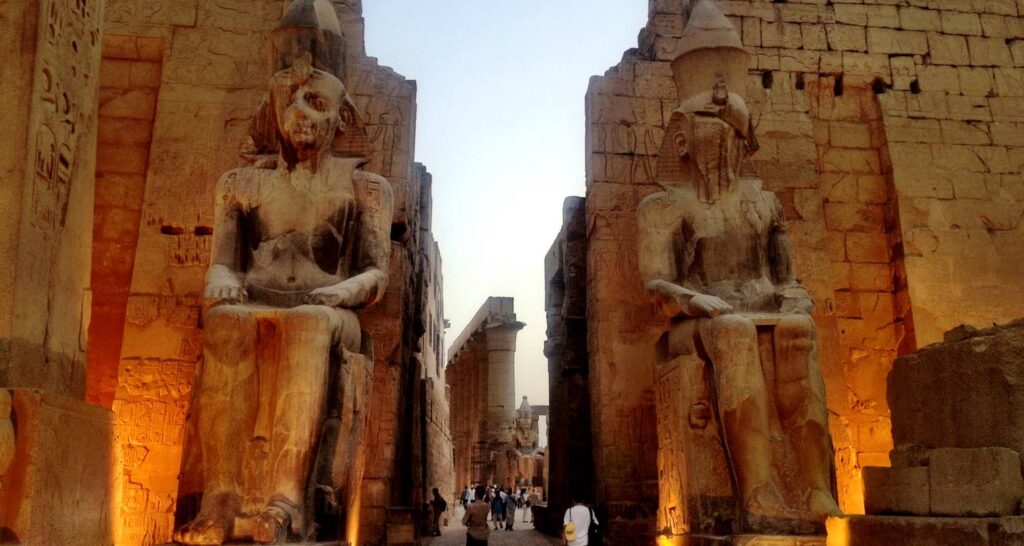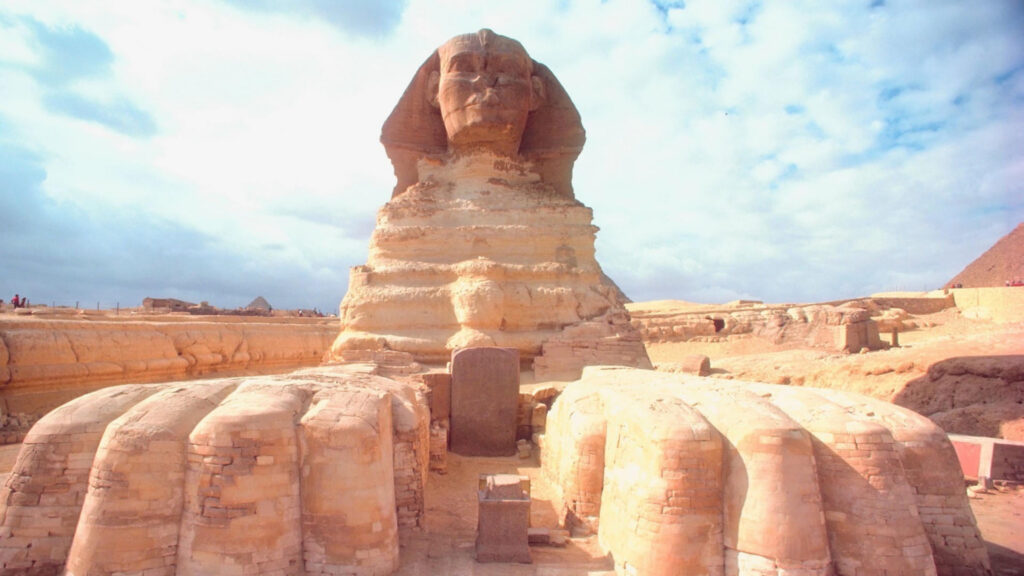 139180_5731fb42-2-1024x546
6e88af5a749fbaeb1e4152e249ce0407-2
Cairo and the Nile jewels
8 Days
Private Tour
Every Friday, Saturday, Sunday
From/per person
$1175
Explore the jewels of Egypt on this 8-day luxury tour to Egypt staying at the luxury 5-star hotels in Cairo with tours to the great Pyramids and Cairo main sights, then fly to Luxor to sail down the Nile on your 5 Star Classic Style cruise between Luxor and Aswan which will take you back through history whilst visiting Temples and Tombs.
Included:
• Meet and assisted at Cairo International Airport.
• English speaking Egyptologists.
• All airport transfers by private deluxe A/C vehicle with Free WIFI.
• Domestic flights from Cairo to Luxor and from Aswan to Cairo
• Entry Visa to Egypt.
• Accommodation for 3 nights in Cairo Hotel
• Accommodation for 4 nights onboard Nile Cruise Luxor to Aswan on full board basis
• All sightseeing tours between Luxor and Aswan to join small- group tours.
• Lunch at The Mena House Hotel Giza
• Admission fees to the sights throughout the tours.
• 2 Bottles of water per person per day
• Free loan of mobile phone charged against 30 min local calls / 3 min. international calls.
• All service charges and taxes
Excluded
• International airfare.
• Entry Visa to Egypt.
• Any extras and personal spending.
• Optional activates.
• Tipping
Tour Itinerary

Day 1: Arrival of Egypt

Upon arrival, wonders of Egypt expeditor will met and assisted you at Cairo International Airport, then transfer you to your five-star luxury hotel in Cairo for check-in, Overnight in Cairo.
NB
An optional evening tour to attend the fabulous Sound and Light Show at the Pyramids or dinner cruise floating on the Nile for a couple of hours.

Day 2: Cairo day tour

Enjoy your breakfast at the hotel, then your private English speaking Egyptologist will pick you up, and drive to Giza Plateau, home of Egypt's greatest attractions the Great Pyramids, one of the Seven Wonders of the Ancient World (Cheops, Chephren, Mykerinos) and the Mysterious Sphinx,
Have lunch quality local restaurant, then drive to tour the Museum of Egyptian which exhibits a collection now of over 120000 masterpieces ranging from Pre-Dynastic era and includes the famous mask of the boy King Tutankhamen, right through from the Pharaonic era to the Greco-Roman period in Egypt, and learn about the secrets of mummification, then drive to visit the old market of Khan El Khalili, time for shopping will be available at governmental stores and shops, heading back to your hotel for an overnight in Cairo.
NB
An optional evening tour to attend the fabulous Sound and Light Show at the Pyramids.
Meals: Breakfast and Lunch

Day 3: Luxor – Nile Cruise Tour

Enjoy your breakfast at the hotel, and then KING of Egypt representative ill pick you up to Cairo Domestic Airport to fly to Luxor. Upon arrival at Luxor International Airport, you will be met and assisted by wonders of Egypt Representative and transferred to your Nile 5 Star Cruise for embarkation. Once checked in, you will enjoy a delicious lunch on board before being collected around 2.30 pm with your English speaking Egyptologist to explore the famous Karnak Temple in Luxor. Karnak Temple is the world's largest ancient religious site. The hypostyle hall with its colossal granite columns is one of Egypt's infamous landmarks.
Then drive to visit Luxor Temple, which was built by Amenhotep III and Ramses II for rituals and festivals and dedicated to the God Amun, heading back to your cruise for overnight.
NB
An optional activity is available to the Sound and Light Show at Karnak Temple, or a tour around traditional Luxor City Market with a Guide or independently.
Meals: Breakfast, Lunch, Dinner
Day 4: Luxor west bank

Enjoy an early breakfast on the cruise, then drive to the West Bank of Luxor to explore the Valley of the Kings to (selection of the beautifully decorated rock-cut tombs, many of which still display vibrant color and breathtaking detail of deities and scenes from the Book of the Underworld). The three tombs you will visit are determined by the Government due to protecting the area and footpaths around and within the tombs.
Visit the impressive colonnaded and terraced Temple of Hatshepsut at Deir el-Bahri, which was built into a high cliff face and has graphics telling the story of Hatshepsut's expeditions to the mysterious land of Punt. Passing by the huge twin statues known as the Colossi of Memnon.
Lunch will be served on board on the cruise while sailing on to Edfu through the lock at Esna. Overnight in Edfu.
Meals: Breakfast, Lunch, Dinner

Day 5: Edfu and Kom Ombo Temples

Enjoy an early breakfast ,then your private English speaking tour guide ill pick you up by Kalesh ride (horse and carriage) to explore the huge Ptolemaic Temple of Horus at Edfu, which is the most complete and best preserved of the Egyptian Temples, consisting of many columns, halls, chambers and chapels. Two statues of Horus flank the twin towered entrance gate; and inside, one of the interesting inscriptions lists the titles of books (scrolls) held in the library.
Sailing to Kom Ombo with Lunch on board and afternoon tea, upon arrival at Kom Ombo, walk with your private English peaking Egyptologist to explore Kom Ombo Temple, which is shared, by two Gods Sobek and Haeroris in Kom Ombo (the only Temple shared by two Gods in Egypt). Sailing on to Aswan under the large structure of Aswan Bridge considered the 'Gateway to Nubia'. Before arriving in Aswan, there will be dinner on board along with a fun evening in the form of a 'Galabeya Party' Overnight in Aswan.
Meals: Breakfast, Lunch, Dinner

Day 6: Aswan sightseeing

Enjoy an early breakfast on the cruise, and then drive to visit Aswan's High Dam, built in the 1960's to provide the much needed electricity and irrigation for the country. Nubia, the area that was flooded, experienced the biggest and most thorough archaeological excavations that Egypt has ever known.
Then we go to see the 'Unfinished Obelisk' which still lay in the granite quarries which provided ancient Egypt with building materials. It would have been the largest piece of stone ever handled but when a crack was discovered.
Cross by boat to Agilika Island, to see the Temple of Isis at Philae, which is one of the Nubian Temples rescued before the High Dam was built. Enjoy Philae's long colonnades, towers and reliefs, which include the last surviving hieroglyphic and demotic inscriptions in Egypt.
Lunch will be served onboard, in the afternoon, a delightful Felucca sail across the Nile and Cataract Islands to visit Lord Kitchener's Botanical Gardens. In the year of 1899 lord Kitchener took the Island as a place where his campaign could rest, and called it the 'Lord's House'. After his death, this island belonged to the ministry of agriculture.
Heading back to the cruise for an overnight in Aswan.
Meals: Breakfast, Lunch, Dinner
Day 7: free day (optional tour to Abu Simbel)

Enjoy your breakfast on the cruise before disembarkation with free time at leisure in Aswan. You may have opportunity for the highly recommended optional excursion to Abu Simbel Temples by private vehicle / by Egypt Air Flight (Abu Simbel remains one of Egypt's top tourist attractions) to explore the magnificence of these Temples. Heading to Aswan airport and flying to Cairo. Overnight in Cairo.
Meals: Breakfast

Day 8: final departure

Enjoy your Breakfast at the hotel with some free leisure time, then transfer to Cairo international airport for final departure.
Meals: Breakfast
Accommodation Plan:
Mena house or hotel Four Seasons Hotel Cairo at First Residence
Moevenpick or Sonesta St. George I Nile Cruise
Per Person in Triple Room MAY-SEPT $ 1155 – OCT-APRIL $ 1325
Per Person in Double Room MAY-SEPT $ 1199 – OCT-APRIL $ 1365
One Person Traveling Alone MAY-SEPT $ 1735 $ – OCT-APRIL 1975
Prices – Per Person in Sterling per Tour and can be paid in US$ or Euros by credit card via a secure payment system with no extra surcharge. Current prices valid through April 30.2021 excluding Christmas Holidays.
Payment – Early Reservations advised to avoid disappointment in securing your spaces, booking secured upon receipt of a 25% deposit. During the Christmas holidays, packages require a deposit of 50%. Forming part of your final payment. Packages and vacations, which include International flights, will require the full flight cost and deposit (25% or 50%) due to the regulations of the Airlines who require full payment
Come to where the weather is as warm as the hospitality!